Regia

Joe Johnston
Cast

Billy Campbell, Jennifer Connelly, Alan Arkin, Timothy Dalton, Paul Sorvino, Terry O'Quinn, Ed Lauter, James Handy, Robert Miranda, John Lavachielli, Jon Polito, Eddie Jones, William Sanderson, Don Pugsley
Sceneggiatura

Danny Bilson, Paul De Meo
(dalla graphic novel di Dave Stevens e dal soggetto Danny Bilson, Paul De Meo, William Dear)
Musica

James Horner
Fotografia

Hiro Narita
Premi

Academy of Science Fiction, Fantasy & Horror Films (USA)
Premio: Costumi - Nomination: Miglior Film - Attrice non protagonista (Jennifer Connelly) - Effetti speciali
Sul finire degli anni '30 in America, il giovane Rocketeer, con un doppio razzo sulle spalle, è chiamato in difesa delle patria da un eventuale invasione tedesca. Gli danno man forte polizia e gang mafiose, ma il pericolo n. 1 è un famoso divo di Hollywood, che fa il doppio gioco con i nazisti.
Dall'omonima comic-series di genere pulp (1982) di Dave Stevens, tra i primi esempi del cinema moderno, dove un super-eroe dei giornalini è trasportato sullo schermo. Intellettualmente realizzato in riferimento al cinema stesso, graficamente ben costruito, ma sacrificato da un soggetto infantile che tende a polverizzare la storia in funzione dell'azione assestante, per altro ottimizzata dagli effetti speciali della Industrial Leigh and Magic di George Lucas. Costato circa 40 milioni di dollari (del 1990) si rivelò come vero flop al botteghino e la Walt Disney Pictures cancellò subito il progetto del sequel, già in cantiere nel periodo. In Italia conosciuto come Rocketeer per l'edizione video.
*****
---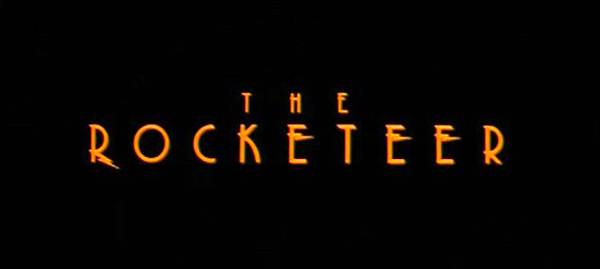 comments powered by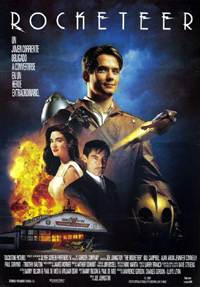 ---
Original track music
Titoli
1.00 - 472 KB wav
---
Video Clip
(Super razzo)
---