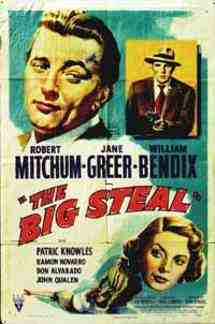 IL TESORO DI VERA CRUZ


The Big Steal
*****

Tenente, accusato ingiustamente dal proprio capitano di aver rubato i soldi del reggimento, fugge cercando di trovare lui stesso il colpevole, ma è inseguito dal proprio superiore in combutta col vero autore del misfatto.
Dalla pulp story "The Road to Carmichael's" (1942) di Richard Wormser, pubblicato sul magazine Saturday Evening Post, film ad inseguimento, dal ritmo serrato e pieno d'intrecci che portano ad un finale abbastanza sorprendente. Considerato un b-movie, ma è diretto da Don Siegel e interpretato da attori importanti come Robert Mitchum, William Bendix e Ramon Novarro. Le riprese furono interrotte per oltre un mese, in attesa dell'uscita di galera di Robert Mitchum, nel frattempo arrestato per uso di marijuana e condannato a 60 giorni di prigione, con circa 20 di sconto. Rifatto per la TV nel 1993 da Jim McBride con Rosanna Acquette con titolo "Il ladro".







USA - 1949

Regia
Don Siegel
Sceneggiatura
Gerald Drayson Adams
Daniel Mainwaring
dal testo di
Richard Wormser
Fotografia
Harry J. Wild
Musica
Leigh Harline
Cast
Robert Mitchum
Jane Greer
William Bendix
John Qualen
Patric Knowles
Ramon Novarro



---
Track Music


(0.30 - 236 KB wav)


---
Video Clip

Videoclip prossimamente on-line
---
Home
Kolossal a confronto - Made in Italy - 2002