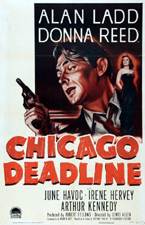 ULTIMATUM A CHICAGO


Chicago Deadline
*****

Giornalista indaga sulla morte di una donna rinvenuta cadavere in un malfamato albergo di Chicago. Non senza rischi personali, attraverso il diario della morta, scova i suoi conoscenti, mette in luce storie di ricatti e omicidi fino ad arrivare all'assassino.
Dal romanzo ´One Woman´ (1933) di Tiffany Thayer, un thriller violento di gran ritmo che la sceneggiatura di Warren Duff prova ad accostare attraverso elementi univoci alla trama di

Vertigine, noir di Otto Preminger del 1944. Raccontato in flashback, si mostra interessante per la forma d'indagine e per il livello di tensione che riesce ad esercitare, meno per quel che riguarda l'aspetto necrofilo; incomprensibile l'atteggiamento morboso del giornalista rivolto nei confronti di una morta che neppure conosceva. L'anno successivo, Alan Ladd riprende il suo personaggio (il reporter) per il radiodramma di mezz'ora inserito nel format "Screen Director's Playhouse". Remake per la Tv (inedito in Italia) nel 1966, con "Fame Is the Name of the Game", di Stuart Rosenberg, con Anthony Franciosa.






USA - 1949

Regia
Lewis Allen
Sceneggiatura
Warren Duff
dal romanzo di
Tiffany Thayer
Fotografia
John F. Seitz
Musica
Victor Young
Cast
Alan Ladd
Donna Reed
June Havoc
Irene Hervey
Arthur Kennedy
Berry Kroeger
Howard Freeman
Margaret Field
Roy Roberts
Marie Blake
Julia Faye
Celia Lovsky
Kasey Rogers



---
Track Music


(0.30 - 236 KB wav)


---
Video Clip
(La terrazza)
---
Home
Kolossal a confronto - Made in Italy - 2002