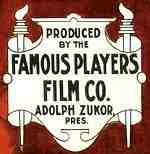 Studios newyorkese fondato nel 1912 dall'ungherese Adolph Zukor, in collaborazione con gli impresari teatrali di Broadway, fratelli Gustave, Daniel e Charles Frohman. Esercita per otto anni, fino al 1919 e nel periodo produce 155 corto e lungometraggi. Nel 1916 apre gli studi a Hollywood e si associa alla Feature Play Company di Jesse L. Lasky, poi Famous Players-Lasky Corporation. Cambia nome in Famous Play Company, prima di dar vita, nel 1927, alla Paramount Famous Lasky Corporation, ramo della Paramount Pictures, dove esercita trasversalmente in funzione di produzione e distribuzione.
Spesso improntato in film di fattura storico-aventurosa, scenograficamente sontuosi, tra i titoli di maggior rilievo si ricordano Il prigioniero di Zenda (1912), Il conte di Montecristo (1913), An American Citizen (1914) , The Port of Missing Men (1914), Il Segno della Croce (1914), The Eternal City (1915), Helene of the North (1915), Esmeralda (1915), Madame Butterfly (1915), Rolling Stones (1916), Great Expectations (1917), The Amazons (1917), Madame Jealousy (1918) e The Only Way (1919).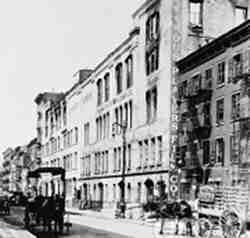 a sinistra, lo studio della Famous Players Film Company in una foto del 1913.

Qui sotto, Adolph Zukor.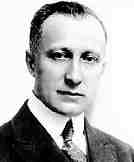 ---
Kolossal a confronto - 2002