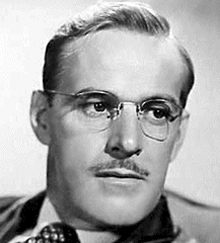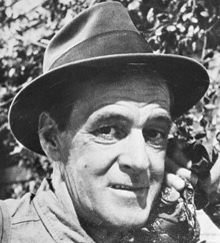 Riot Squad
(1941)
Rio Rita
(1942)
Gente allegra
(1942, Tortilla Flat)
Grand Central Murder


(1942)
La doppia vita di Andy Hardy
(1942, Andy Hardy's Double Li)
La grande fiamma
(1942, Reunion in France)
Il difensore di Manila
(1943, Salute to the Marines)
Joe il pilota
(1943, A Guy Named Joe)
Wilson


(1944)
La nave senza nome
(1944, Wing and a Prayer)
La donna del ritratto


(1944, The Woman in the Window)
Il figlio di Lassie
(1945, Son of Lassie)
L'ora di New York
(1945, The Clock)
Il sole spunta domani
(1945, Our Vines Have Tender Grapes)
Minorenni pericolose
(1946, Boys' Ranch)
La magnifica bambola
(1946, Magnificent Doll)
Femmina
(1947, Mr. District Attorney)
La colpa di Janet Ames


(1947, The Guilt of Janet Ames)
La casa rossa


(1947, The Red House)
Io non t'inganno t'amo!


(1948, I Love Trouble)
Sul fiume d'argento


(1948, Silver River)
Un sudista del Nord
(1948, A Southern Yankee)
La quercia dei giganti
(1948, Tap Roots)
La grande minaccia


(1948, Walk a Crooked Mile)
Giovanna d'Arco


(1948, Joan of Arc)
Falchi in picchiata


(1948, Fighter Squadron)
Viso pallido
(1948, The Paleface)
El Paso
(1949)
Ultimatum a Chicago


(1949, Chicago Deadline)
Amaro destino


(1949, House of Strangers)
Fate il vostro gioco
(1949, Any Number Can Play)
Fiori nel fango


(1949, Shockproof)
La città del terrore


(1950, The Killer That Stalked New York)
Tomahawk - Scure di guerra


(1951, Tomahawk)
Avvocati criminali
(1951, Criminal Lawyer)
So che mi ucciderai


(1952, Sudden Fear)
Fargo - La valle dei desperados
(1952, Fargo)
Essi vivranno!


(1953, Battle Circus)
Il traditore di Fort Alamo


(1953, The Man from the Alamo)
Yankee pascià
(1954, Yankee Pasha)
È nata una stella
(1954, A Star Is Born)
Rullo di tamburi


(1954, Drum Beat)
Il calice d'argento


(1954, The Silver Chalice)
L'agente speciale Pinkerton
(1955, Rage at Dawn)
I rinnegati del Wyoming
(1955, Wyoming Renegades)
Gli ostaggi
(1955, A Man Alone)
I pionieri dell'Alaska


(1955, The Spoilers)
L'assassino è perduto


(1956, The Killer Is Loose)
Scialuppe a mare
(1956, Away All Boats)
L'aquila solitaria
(1957, The Spirit of St. Louis)
A 30 milioni di Km dalla Terra


(1957, 20 Million Miles to Earth)
Il capitano dei mari del Sud


(1958, Twilight for the Gods)
La notte senza legge


(1959, Day of the Outlaw)
I mastini del West
(1959, Gunfighters of Abilene)
Scandalo al sole


(1959, A Summer Place)
Il solitario di Rio Grande


(1971, Shoot Out)
Pomi d'ottone e manici di scopa
(1971, Bedknobs and Broomsticks)
Swarm - Lo sciame che uccide
(1978, The Swarm)
On the Nickel
(1980)











Web Page



Il suo nome completo era Charles Arthur Space. Caratterista americano di cinema e televisione, di lunga carriera durata oltre quarant'anni, in maggioranza sviluppata alla Metro-Goldwyn-Mayer, spesso prestato ad altri studios, interprete senza accredito in una moltitudine di film ordinari, raramente di prim'ordine, molti dei quali mai esportati all'estero, adatto ad ogni genere, con prevalenza nel western e nel thriller. Alto, baffuto, riconoscibile dall'aspetto più che per il nome, nel cinema utilizzato in ruoli di sceriffi, poliziotti, medici, funzionari, banchieri o di simpatici ubriaconi, dopo gli studi alla High School di New Brunswick, nel New Jersey, inizia a lavorare in teatro e nel 1935 appare sul palcoscenico di Broadway, nella comedy ´Three Men on a Horse´ e nel dramma ´Awake and Sing!". In seguito presente in altre rappresentazioni estive di tono minore, nel 1940 è chiamato a Hollywood e qui debutta nel cinema in Riot Squad (1941) e l'anno successivo è al fianco di Gianni e Pinotto nel musical Rio Rita. Ad alti ritmi, per tutto il decennio appare in film di ogni genere, Gente allegra (commedia), Il difensore di Manila (bellico), Wilson (biografico), Il figlio di Lassie (avventura), Il sole spunta domani (dramma), La casa rossa (noir), Sul fiume d'argento (western), Giovanna d'Arco (storico). Negli anni '50 il trend rimane invariato, se non per la partecipazione in film di spessore superiore ai precedenti, dove in varie occasioni è anche accreditato, Essi vivranno!, È nata una stella, Rullo di tamburi, Il calice d'argento, L'aquila solitaria, A 30 milioni di Km dalla Terra, Il capitano dei mari del Sud, Scandalo al sole. Nel periodo inizia a lavorare per la televisione, assiduo in svariati tv-series di grande audience, "Le avventure di Gene Autry", "Crusader", "Zorro", "Il magnifico King", "Carovane verso il West", "Lassie", "Perry Mason", "La grande vallata", "Selvaggio West", "Ironside", "Il tenente Kojak", "Lou Grant". Saltuariamente torna al cinema in ruoli secondari per film di buona risonanza, Pomi d'ottone e manici di scopa (1971), Swarm - Lo sciame che uccide (1978). Interpreta il suo ultimo film nel 1980, On the Nickel e nel 1981 si ritira definitivamente dalle scene dopo la presenza in una puntata del series televisivo "Uno sceriffo contro tutti". Malato di cancro, rimasto vedovo, muore nel 1983, a 74 anni. Sposato con Mary Campbell, deceduta nel 1974 (due figlie, Susan e Sondra).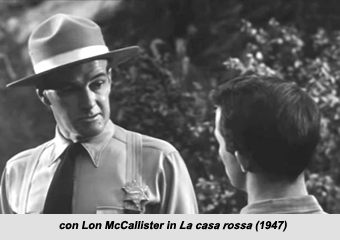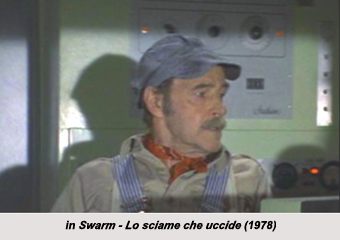 comments powered by