Presentazione


Per diversi fattori, anche il western è considerato genere storico o in costume, maggiormente se inserito nella dialettica dei film che narrano gli avvenimenti della storia americana attraverso tre eventi, divisi tra "età dei pionieri", "Guerra d'Indipendenza" e "Guerra Civile" (o di Secessione=. A questi, vanno aggiunti i capitoli successivi, appartenenti al periodo delle battaglie tra bianchi e pellerossa per il dominio dei territori o, anche, circostanziati ad avvenimenti storici locali determinati da episodi di banditismo, lotte di padronanza, diatribe mortali.

Il Nord America non ha in se una grande storia; essa è limitata agli avvenimenti sopra citati; quindi, parte della filmografia, oltre ad analizzare vari accenti biografici, nella gran maggioranza dei casi si affida a storie di fantasia, costruite a misura di eventi estemporanei attraverso personaggi più grandi del reale, visivamente accompagnati da tutte le condizioni necessarie preposte dal genere: duelli, assalti a diligenze, regolamenti di conti, lotte con gli indiani, scazzottate nei saloon, odio e passioni, vendette, ecc., il tutto, guidato da un esercizio di natura psicologica appositamente disegnato in ciascun protagonista.

Praticamente sorto con la nascita del cinema, per oltre 70 anni, il western americano è identificato come genere filmico più illustre, il solo capace di creare il mito attraverso l'immaginazione.

I primi tentativi, a modello di documentario, furono realizzati nel lontanissimo 1894, attraverso Sioux Ghost Dance (durata: 1 minuto), Buffalo Dance (16 secondi) e Bucking Bronco (originariamente di 1 minuto poi ridotto a 22 secondi), tutti prodotti dalla Edison Manufacturing Company. A breve, nasce il western accompagnato dalla trama; ciò avviene nel 1903 per mezzo di tre cortometraggi: Kit Carson, The Pioneers e il famosissimo Assalto al treno. In seguito, mentre l'Inghilterra realizza il primo western completamente a colori, Fate (1911), negli USA nasce il lungometraggio attraverso Arizona e The Squaw Man (erroneamente considerato il primo), entrambi del 1913.

Dagli albori e per circa 20 anni, il cinema americano realizza western a gettito continuo, per lo più guidati da storie banali, ma efficacemente raffigurate. Degli oltre 11.000 titoli, dalla nascita del genere ad oggi, ben un terzo furono girati nel periodo del muto, molti dei quali nel tempo dispersi, dimenticati, o anche, semplicemente ignorati e gettati via, con conseguente grave danno al patrimonio cinematografico. Ma questo avveniva in tempi dove, nel cinema, il termine 'preservazione' era completamente sconosciuto.

Con l'avvento del sonoro e poi del Technicolor, nascono i primi grandi film, alcuni considerati veri capolavori, diretti da grandi registi specializzati quali Ford, Hawsk, Walsh, Vidor, King, Mann, Hathaway e interpretati dalle grandi star del periodo. Tra questi, emergono diverse super produzioni spettacolari, veri kolossal, nell'ambizioso progetto di allargare sempre più un genere dagli americani considerato addirittura sacro. Per tutti gli anni '40, '50 e, in parte '60, trentennio centrale e più famoso, il western è filmato seguendo il classico iter che si appoggia su basi consolidate dall'assoluta preminenza eroica e riconducibili ad un clima di epica popolare, intensamente radicata alla terra d'origine.

Dalla metà degli anni '60, progressivamente, il western cambia fisionomia. Con l'avvicendamento generazionale sparisce uno stile ormai impresso a fuoco. I nuovi registi, Boetticher, Sturges e poi Leone, Peckinpah, Penn, Eastwood, non cancellano del tutto le forme autoctone, ma le accrescono in registri inerenti a problematiche di carattere sociale o ambientale e, nella maggior parte dei casi, rappresentate in accostamento all'attualità contemporanea. Quindi, non più cinema ancorato al vecchio classicismo, anche se nei modelli il richiamo è sempre vivo, ma dettato da nuovi convincimenti di carattere intellettuale, dove la rappresentazione violenta diventa priorità necessaria se non assoluta. Sergio Leone, con l'incastro ironico-drammatico, è il primo ad attuare la svolta del cambiamento, in un genere da lui considerato logoro e assuefatto dalla 'lunga menzogna'.

Seppur limitato e molto nella produzione, oggi il western è considerato´'adulto´, assolutamente filoindiano, radicalizzato su linee precise assimilate a materie tangibili assecondate ad astrazioni in richiamo a realismo, psicologia, rivalutazione e logica ecologista.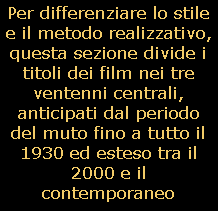 Silent-Movie - 1930
1940 - 1950
1960 - 1970
1980 - 1990
2000 e oltre
1960 - 1970
1960 I DANNATI E GLI EROI (Sergeant Rutledge)

1960 DUELLO TRA LE ROCCE (Hell Bent for Leather)

1960 GLI INESORABILI (The Unforgiven)

1960 I MAGNIFICI SETTE (The Magnificent Seven)

1960 UN PIEDE NELL'INFERNO (One Foot in Hell)

1960 PUGNI PUPE E PEPITE (North to Alaska)

1960 LA VALLE DEI MOHICANI (Comanche Station)

1961 I CANADESI (The Canadians)

1961 CAVALCARONO INSIEME (Two Rode Together)

1961 I COMANCHEROS (The Comancheros)

1961 I DUE VOLTI DELLA VENDETTA (One-Eyed Jacks)

1961 LA MORTE CAVALCA A RIO BRAVO (The Deadly Companions)

1961 L'OCCHIO CALDO DEL CIELO (The Last Sunset)

1962 GERONIMO
1962 SFIDA NELL'ALTA SIERRA (Ride the High Country)

1962 SOLO SOTTO LE STELLE (Lonely Are the Brave)

1962 IL TESORO DEL LAGO D'ARGENTO (Der schatz im silbersee)

1962 L´UOMO CHE UCCISE LIBERTY VALANCE (The Man Who Shot Liberty Valance)

1963 DUELLO NEL TEXAS
1963 McLINTOCK (McLintock!)

1963 I QUATTRO DEL TEXAS (4 for Texas)

1963 I TRE SPIETATI (El sabor de la venganza)

1964 ATTENTO GRINGO... ORA SI SPARA! (La tumba del pistolero)

1964 GIORNI DI FUOCO (Winnetou - 2. Teil)

1964 MASSACRO AL GRANDE CANYON
1964 MINNESOTA CLAY
1964 PER UN PUGNO DI DOLLARI
1964 LE PISTOLE NON DISCUTONO
1964 RIO CONCHOS
1964 IL VENDICATORE DI KANSAS CITY (Sonaron cuatro balazos)

1965 ADIOS GRINGO
1965 UNA BARA PER LO SCERIFFO
1965 CAT BALLOU
1965 UN DOLLARO BUCATO
1965 IL MASSACRO DEI SIOUX (The Great Sioux Massacre)

1965 MEZZO DOLLARO D'ARGENTO (Son of a Gunfighter)

1965 PER QUALCHE DOLLARO IN PIÙ
1965 UNA PISTOLA PER RINGO
1965 I 4 FIGLI DI KATIE ELDER (The Sons of Katie Elder)

1965 IL RITORNO DI RINGO
1965 SIERRA CHARRIBA (Major Dundee)

1965 30 WINCHESTER PER EL DIABLO
1966 ALVAREZ KELLY
1966 ARIZONA COLT / IL PISTOLERO DI ARIZONA
1966 IL BUONO, IL BRUTTO, IL CATTIVO
1966 LE COLT CANTARONO LA MORTE…E FU TEMPO DI MASSACRO
1966 2 ONCE DI PIOMBO
1966 DJANGO
1966 DJANGO SPARA PER PRIMO
1966 EL DORADO
1966 JOHNNY ORO
1966 1000 DOLLARI SUL NERO
1966 I 9 DI DRYFORK CITY (Stagecoach)

1966 PER IL GUSTO DI UCCIDERE
1966 QUIEN SABE? (El chuncho, quien sabe?)

1966 RINGO DEL NEBRASKA
1966 IL RITORNO DEI MAGNIFICI SETTE (Return of the Seven)

1966 I PROFESSIONISTI (The Professionals)

1966 3 PISTOLE CONTRO CESARE
1966 LA VALLE DELL'ORSO (The Night of the Grizzly)

1967 CAROVANA DI FUOCO (The War Wagon)

1967 CUSTER EROE DEL WEST (Custer of the West)

1967 10.000 DOLLARI PER UN MASSACRO
1967 DIO NON PAGA IL SABATO
1967 UN DOLLARO TRA I DENTI
1967 DOVE SI SPARA DI PIÙ
1967 DUE CROCI A DANGER PASS
1967 EL ROJO
1967 FACCIA A FACCIA
1967 I GIORNI DELL´IRA
1967 IL GRANDE SILENZIO
1967 HOMBRE
1967 JOHN IL BASTARDO
1967 NATO PER UCCIDERE
1967 L´ORA DELLE PISTOLE (Hour of the Gun)

1967 PER POCHI DOLLARI ANCORA
1967 LA RESA DEI CONTI
1967 IL RITORNO DEL PISTOLERO (Return of the Gunfighter)

1967 SFIDA OLTRE IL FIUME ROSSO (The Last Challenge)

1967 STRANIERO…FATTI IL SEGNO DELLA CROCE
1967 IL TEMPO DEGLI AVVOLTOI
1967 L´ULTIMO COLPO IN CANNA (Day of the Evil Gun)

1967 VADO…L´AMMAZZO E TORNO
1967 LA VIA DEL WEST (The Way West)

1967 VIVERE DA VIGLIACCHI, MORIRE DA EROI (Chuka)

1968 AL DI LÀ DELLA LEGGE
1968 AMMAZZALI TUTTI E TORNA SOLO
1968 ANCHE NEL WEST C'ERA UNA VOLTA DIO
1968 BANDOLERO!
1968 UN BUCO IN FRONTE
1968 CORRI UOMO CORRI
1968 DIO LI CREA…IO LI AMMAZZO!
1968 …E VENNE IL TEMPO DI UCCIDERE
1968 EXECUTION
1968 IMPICCALO PIÙ IN ALTO (Hang´em High)

1968 L´IRA DI DIO
1968 JOKO INVOCA DIO…E MUORI
1968 JOE BASS L´IMPLACABILE (The Scalphunters)

1968 PER 100.000 DOLLARI T´AMMAZZO
1968 IL PISTOLERO SEGNATO DA DIO
1968 POKER DI SANGUE (5 Card Stud)

1968 PREPARATI LA BARA!
1968 QUELLA SPORCA STORIA NEL WEST
1968 REQUIEM PER UN GRINGO
1968 SARTANA NON PERDONA
1968 SE INCONTRI SARTANA PREGA PER LA TUA MORTE
1968 SHALAKO
1968 SPARA, GRINGO, SPARA
1968 IL SUO NOME GRIDAVA VENDETTA
1968 L´UOMO, L´ORGOGLIO, LA VENDETTA
1969 BUTCH CASSIDY (Butch Cassidy and the Sundance Kid)

1969 IL DITO PIÙ VELOCE DEL WEST (Support Your Local Sheriff!)

1969 DJANGO IL BASTARDO
1969 I DUE INVINCIBILI (The Undefeated)

1969 EHI AMICO…C'È SABATA, HAI CHIUSO!
1969 GARRINGO
1969 IL GRINTA (True Grit)

1969 LA BALLATA DELLA CITTÀ SENZA NOME (Paint Your Wagon)

1969 IL MUCCHIO SELVAGGIO (The Wild Bunch)

1969 L'ORO DI MACKENNA (Mackenna's Gold)

1969 LE PISTOLE DEI MAGNIFICI SETTE (Guns of the Magnificent Seven)

1969 IL PISTOLERO DI DIO (Heaven with a Gun)

1969 IL PREZZO DEL POTERE
1969 TEPEPA
1969 UCCIDERÒ WILLIE KID (Tell Them Willie Boy Is Here)

1969 ULTIMA NOTTE A COTTONWOOD (Death of a Gunfighter)

1969 I VIGLIACCHI NON PREGANO
1969 VIVI O PREFERIBILMENTE MORTI
1970 GLI AVVOLTOI HANNO FAME (Two Mules for Sister Sara)

1970 C'È SARTANA…VENDI LA PISTOLA E COMPRATI LA BARA
1970 LO CHIAMAVANO TRINITÀ...
1970 CHISUM
1970 INDIO BLACK, SAI CHE TI DICO: SEI UN GRAN FIGLIO DI...
1970 INGINOCCHIATI STRANIERO…I CADAVERI NON FANNO OMBRA!
1970 MATALO!
1970 UNA NUVOLA DI POLVERE…UN GRIDO DI MORTE…ARRIVA SARTANA
1970 PICCOLO GRANDE UOMO (Little Big Man)

1970 RIO LOBO
1970 SARTANA NELLA VALLE DEGLI AVVOLTOI
1970 SOLDATO BLU (Soldier Blue)

1970 UN UOMO CHIAMATO CAVALLO (A Man Called Horse)

1970 VAMOS A MATAR, COMPAÑEROS
1971 ANCHE PER DJANGO LE CAROGNE HANNO UN PREZZO
1971 CATLOW
1971 I COMPARI (McCabe & Mrs. Miller)

1971 …CONTINUAVANO A CHIAMARLO TRINITÀ
1971 IL GIORNO DEI LUNGHI FUCILI (The Hunting Party)

1971 GIÙ LA TESTA
1971 IL GRANDE JAKE (Big Jake)

1971 IO SONO LA LEGGE (Lawman)

1971 IO SONO VALDEZ (Valdez is Coming)

1971 PREGA IL MORTO E AMMAZZA IL VIVO
1971 RIMASE UNO SOLO E FU LA MORTE PER TUTTI !
1971 SEI GIÀ CADAVERE AMIGO…TI CERCA GARRINGO (Abre tu fosa amigo... llega Sabata)

1971 SOLE ROSSO (Soleil rouge)

1971 IL SOLITARIO DI RIO GRANDE (Shoot Out)

1971 SU LE MANI, CADAVERE! SEI IN ARRESTO
1971 TESTA T´AMMAZZO, CROCE... SEI MORTO... MI CHIAMANO ALLELUJA
1971 IL TREDICESIMO È SEMPRE GIUDA
1971 UOMINI SELVAGGI
1971 UOMO BIANCO VÀ COL TUO DIO (Man in the Wilderness)

1972 ALLELUIA E SARTANA, FIGLI DI...DIO
1972 UN BOUNTY KILLER A TRINITÀ
1972 CHATO (Chato's Land)

1972 CORVO ROSSO NON AVRAI IL MIO SCALPO (Jeremiah Johnson)

1972 I COWBOYS (The Cowboys)

1972 LA FECCIA (The Revengers)

1972 IL GRANDE DUELLO
1972 GREASER'S PALACE
1972 JOE KIDD
1972 LO CREDEVANO UNO STINCO DI SANTO (La caza del oro)

1972 I MAGNIFICI 7 CAVALCANO ANCORA (The Magnificent Seven Ride)

1972 CAMPA CAROGNA…LA TAGLIA CRESCE
1972 UNA RAGIONE PER VIVERE E UNA PER MORIRE
1972 UOMO AVVISATO MEZZO AMMAZZATO...PAROLA DI SPIRITO SANTO
1973 LO CHIAMAVANO TRESETTE...GIOCAVA SEMPRE COL MORTO
1973 IL MIO NOME È NESSUNO
1973 PAT GARRETT E BILLY THE KID (Pat Garrett and Billy the Kid)

1973 QUEL MALEDETTO COLPO AL RIO GRANDE EXPRESS (The Train Robbers)

1973 LA STELLA DI LATTA (Cahill U.S. Marshal)

1973 LO STRANIERO SENZA NOME (High Plains Drifter)

1973 VIVO QUANTO BASTA PER AMMAZZARTI (Santee)

1974 DI TRESETTE CE N'È UNO TUTTI GLI ALTRI SON NESSUNO
1975 CHEYENNE (Winterhawk)

1975 TORNA EL GRINTA (Rooster Cogburn)

1975 STRINGI I DENTI E VAI! (Bite the Bullet)

1976 JOSHUA
1976 KEOMA
1976 IL PISTOLERO (The Shootist)

1976 IL TEXANO DAGLI OCCHI DI GHIACCIO (The Outlaw Josey Wales)

1976 GLI ULTIMI GIGANTI (The Last Hard Men)

1976 LA VENDETTA DELL'UOMO CHIAMATO CAVALLO (The Return of a Man Called Horse)

1977 CALIFORNIA
1978 AMORE PIOMBO E FURORE
1978 VERSO IL SUD (Goin' South)

1979 SCUSI, DOV´È IL WEST? (The Frisco Kid)